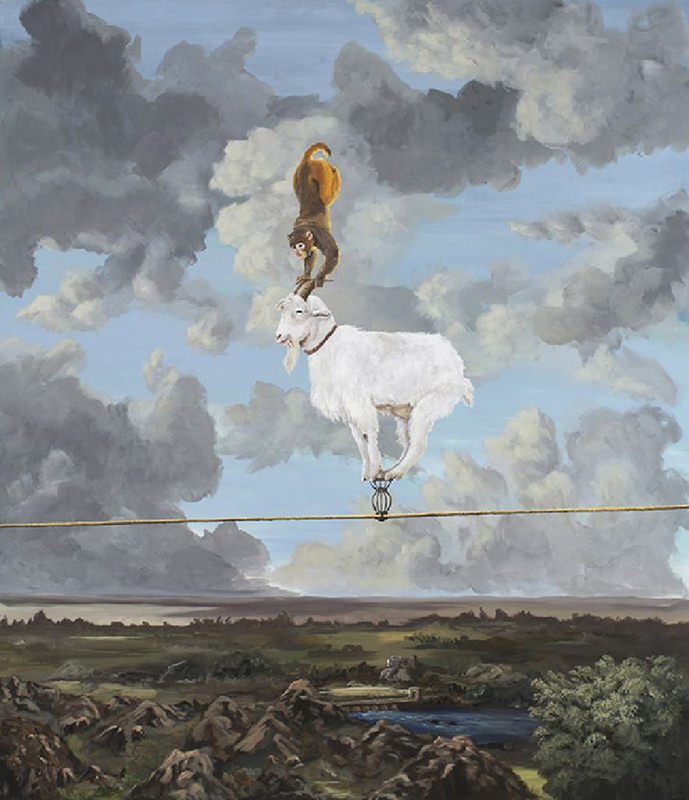 Djordje Ozbolt
Practice Makes Perfect
2008
148.9 x 128.9 cm
acrylic on board
Djordje Ozbolt was born in Belgrade, Serbia in 1967. After temporarily studying architecture in his hometown, he moved to London and studied art. He is currently based in London.
Seeing and drawing paintings has been familiar to Ozbolt since he was a child, and painting is still the most exciting thing for him. As soon as he completes one work, he immediately begins his next project. It is as though he is working on an eternal painting that never ends. On the other hand, he has not shown interest in digital cameras and computers.
Ozbolt has produced many works that freely combine historical and cultural backgrounds, using quotes and mimesis of various arts, cultures, traditions and religions from all over the world. Kitsch motifs such as cartoon images and fast food are occasionally slipped into his works. A hint of irony can be found in the strange combinations of such motifs.
Innocent animals' brilliant acrobats are depicted on a background that mimics classic paintings. As viewers look into the painting they cannot help but imagine a story before and after this scene. In spite of this unreal acrobatics, a question emerges as to whether or not we can find hope from its perfect result, to feel irony or to reconsider what perfect means. As a student, Ozbolt learnt all the European painting techniques. The result of his practice appears in his perfect background depiction using perspective. The title of this work is indicative of Ozbolt himself.
(Commentary:Masashi Shiobara / Translation:Emma Tsuji Harrison)