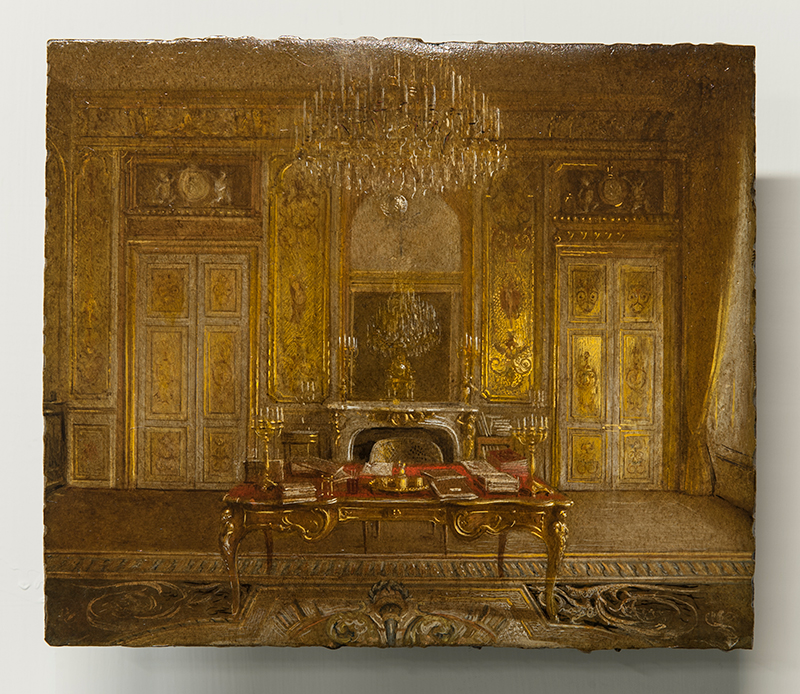 Laurent Grasso
Studies into the past
2015
20.0 x 23.5 cm
oil on wood
Laurent Grasso is known for his paintings that depict scientific and supernatural phenomena that could never have been drawn at the time, using the style and techniques of medieval and early modern paintings based on thorough research.
This golden painting shows the current office of the President of the French Republic, commonly known as the "Salon doré" (Golden room). The Palais de l'Élysée, which houses this office, was built in the 18th century and used as the official presidential residence since the 19th century. In a sense, it can be described as a place that has constantly been one of the centres of power of France despite the drastic change from monarchy to democracy. This work is painted in a style reminiscent of the Rococo paintings that flourished in France around the 18th century when the Palais de l'Élysée was built. However, the arrangement of the furniture recalls the presidential office today. In fact, the work is based on interviews conducted during the presidency of former President Francois Hollande, who served as President of France from 2012 to 2017.
It is as though Grasso's painting is representing the ambiguity of power by drawing the presidential office as a place where present and past, change and permanent, real and unreal intersect. While gazing at the golden paintings reflecting the light, the viewer may wander into Grasso's alternative world different from the one we live in, as if consciousness and vision become blurry under the heat and light of the sun.
(Commentary:Kaoru Inoue / Translation:Emma Tsuji Harrison)