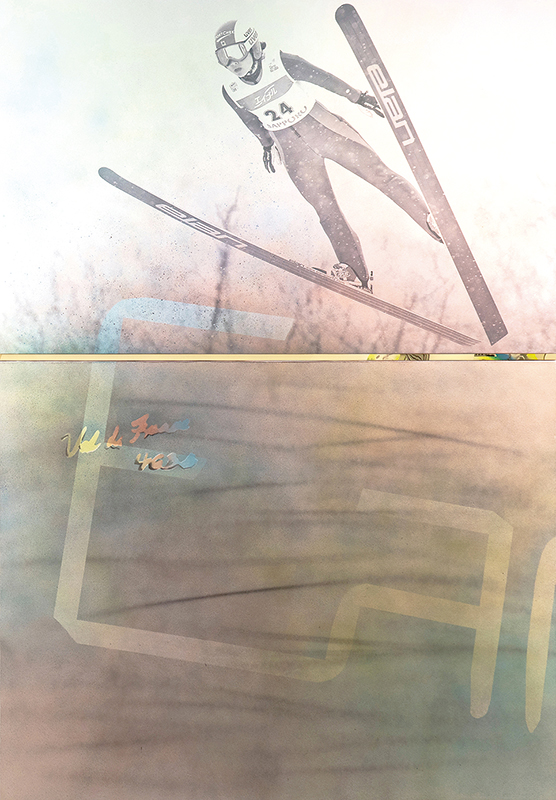 Wendy White
ELAN (Sara Takanashi)
2015
250.8 x 172.7 x 3.5 cm
Inkjet and acrylic on canvas, gold mirrored PVC
Born in Deep River, Connecticut, USA in 1971, Wendy White began her career as a sculptor. She creates paintings that defy the traditional concept of the canvas (as support), using silkscreen, airbrushes, and sprays to express the vibrant, bustling energy of city streets.
The figure flying high in the sky is Sara Takanashi, the ski jumper from Kamikawa, Hokkaido. The logo of the ski equipment company Elan is visible on the ramp that she is jumping from, and the logo of Livable, the real estate rental company which sponsored the tournament, is printed across her bib.
This image captures the moment of her glory, revealed through the lens of the mass media. We witness the athlete's single-minded performance as well as the sports equipment brand and corporate advertising all at once, prompting us to recognize the relationship between sports (purity) and economic activities (capitalism) in a fresh light.
Ski jumping is a sport in which athletes descend the jumping ramp at nearly 100 kilometers per hour, take off from the curve, and compete to reach the farthest from the ground and the longest distance possible. Some say that "the sport originates from the method of executing criminals by putting skis on their feet and pushing them off the tip of the mountain." As the theory suggests, ski jumping is an extremely dangerous sport, and like motor racing, there had been few women athletes who competed in it until recent years.
White highlights and incorporates into her work male-dominated areas such as professional sports, muscle cars, and — in the field of art — abstract expressionism. By doing so, she questions the tendency to emphasize masculinity, but her work also goes beyond cultural commentary. It delves into deeper universal human motivations such as the desire for belonging and acknowledgement, "the drive to make a mark on something and find one's place in the world."
(Commentary:Masashi Shiobara / Translation:Yui Kajita)