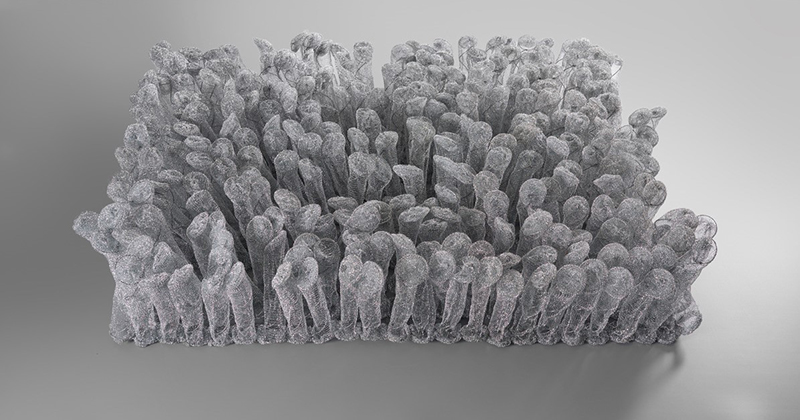 Bronwyn Katz
//XA//XASEN(Ⅰ)(STUDY)
2019
185.0 x 135.0 x 40.0 cm
Salvaged bedspring and pot scrubs
A young artist from South Africa, Bronwyn Katz's practice engages with the concept of land as a repository of memory, reflecting on the notion of place or space as lived experience, and the ability of the land to remember and communicate the memory of its occupation, by incorporating sculpture, installation, video and performance.
A worn mattress is a recurring feature of her work and used in //XA//XASWN(I)(STUDY) as well. By emptying it out of its contents and readapting it with the various materials that make it up (off-cuts of foam rubber, whirls coming from iron bed springs), she creates ghost forms. Depicting emptiness is a way for her to bring out the still living presence coming from the memory of our ancestors. Meanwhile her practice is described as bringing the lost or the destroyed alive by using mattress which she mentions as a metaphor of the land. Her minimal and abstract way of expression makes her artworks open to a variety of interpretation.
She is an emerging artist who held solo shows at White Cube and Peres projects as well as participated in an exhibition at Palais de Tokyo and the Sydney Biennial.story-telling that long predate Western Modernism.
(Commentary & Translation:Tomoya Iwata)