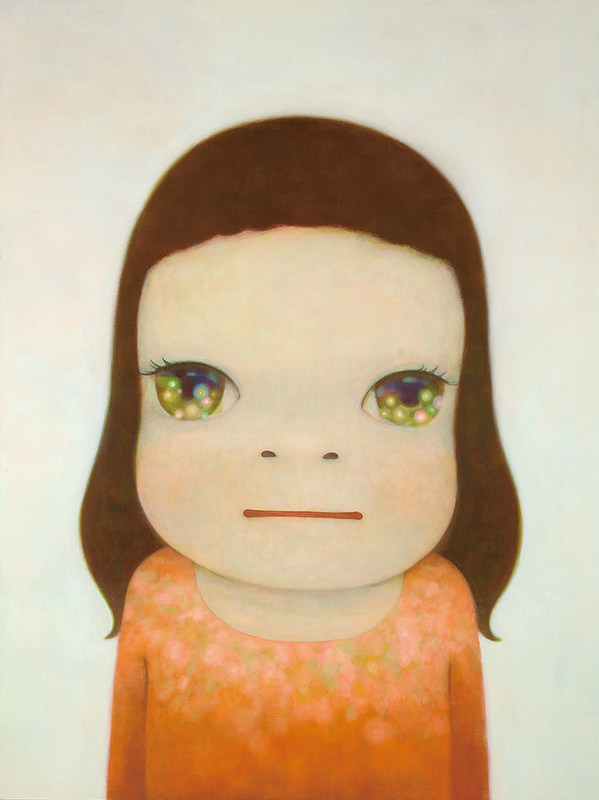 Yoshitomo Nara
Cosmic
2007
291.0 x 218.5 cm
acrylic on canvas
The child's eyes drawn on a screen on a screen approximately three meters beam dazzling light like a star, and the light looks as though it has been spilt and reflecting on her clothes. Although the image is boldly deformed and simplified, the delicate and deep colours give life to the skin and an impression that the child has warmth and is alive.
Nara studied in Japan and Germany and attracted attention by presenting paintings, drawings, three-dimensional works and installations with children and animals as motifs. A slightly upward gaze towards the viewer includes immature weakness, fragility, innocence, as well as formidability and a taste of aggressiveness. The child may be asking questions by captivating the viewer through their quiet gaze, as a being that has not internalized the social norms and customs of adults. The title "cosmic" seems to point out the narrowness and smallness of human society full of problems by superimposing the existence of children on the universe that moves in a large space-time, which is incomparable to human society.
Nara explores concrete expressions and has developed vigorous activities both in Japan and overseas, gaining international acclaim as one of Japan's leading contemporary artists.
(Commentary:Sayako Kinoshita / Translation:Emma Tsuji Harrison)