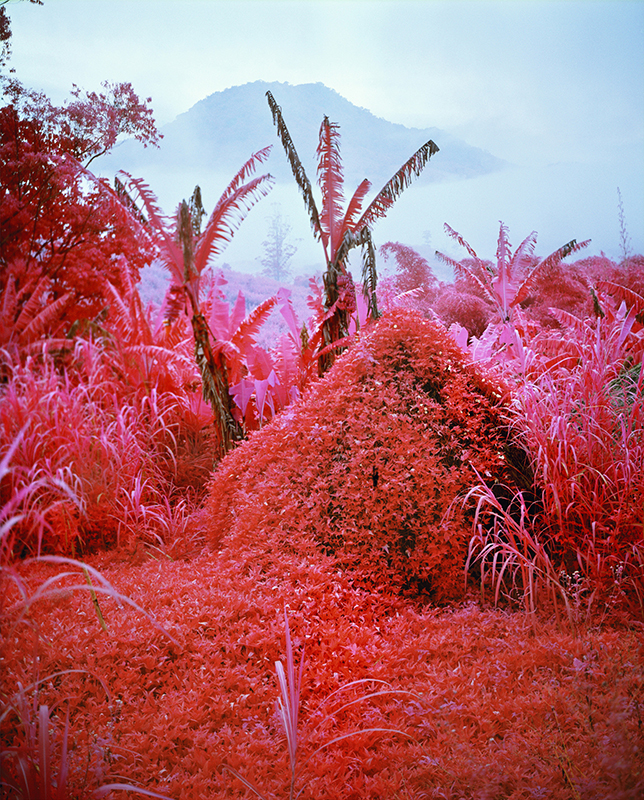 Richard Mosse
Come Out (1966) I
2011
152.4 x 121.9 cm
digital c-print
1/2 + 1AP
Richard Mosse captures conflicts, social issues and people's suffering around the world using various methods of art and photojournalism. After filming conflict zones in various locations, he spent two years in the South Kivu province of the Democratic Republic of Congo (formerly Zaire), one of the most war-torn areas in the nation, living with armed groups. Civil war has been ongoing for the past fifteen years here, with over forty armed forces fighting each other over various interests. The distinction between good and evil became irrelevant, and all that is left are the brutal and painful sacrifices.
The 16mm infrared film (Kodak Aerochrome) used in this work was developed by the US military in the 1940s to identify enemies camouflaged on the battlefield. By using this film, chlorophyll and green included in plants will appear pink or magenta, visualising clues to the enemy that are indistinguishable to the naked eye by photography.
Invisible scars of tragedy lie in the landscape shown in bright pink. The two extreme worlds of the record of the tragedy and the aesthetic value come together in this work.
Mosse says "I go to great lengths to keep my work as open as possible in terms of significance, trying especially hard to avoid didacticism. So the viewer can bring whatever they like to the work and its unusual colors… If people are moved by the work to take a longer look at the humanitarian disaster in eastern Congo, that is superb."
(Commentary:Masashi Shiobara / Translation:Emma Tsuji Harrison)